about
cv
I am a professional painter and photographer. I graduated in Painting from the Academy of Fine Arts in Krakow, Poland in 2003. I also studied at the National College of Art and Design in Dublin and Universität der Künste in Berlin. My work is concerned with broadly understood portrait with focus on capturing the personality and nature of the portrayed person and animal. My inspiration comes from living and working in Poland, Germany, USA, Ireland, Wales and India. I am currently based in Copenhagen, Denmark.
art shows
2017 Animalis - Painting Triennale
2014 Animalis - Painting Triennale - Award ZPAP Katowice
2014 "City structures" BWA Tarnów, Poland - Distinction
2013 Art salon Tarnów, Poland - Distinction
2013 Der Kleine KunstBahnhof St. Julian, Germany - Painting
2007 GdK – Berlin – Art gallery - Strictly Berlin
2006 Museum of Modern Art Skopje - Easy Transport
2005/06 Organizer of the German/Polish art festival Konfrontacje/Konfrontationen
2006 Gallery Pauza in Kraków, Poland – "Spielplatz"
2005 Seven – Group exhibition in Kraków, Poland "Galeria Na Piętrze" -Painting
2004 Cztery Zapisy Nie - Automatyczne - Słupsk, Poland
2004 "Meeting Place" - photography, Technical museum in Bielsko Biała, Poland
2004 Royal Hibernian Academy -174th Annual exhibition Dublin, Ireland
2003 Organizer of the "Friends at the Crossroads" Exhibition at "the Viking's Center" Temple Bar in Dublin, Ireland
2003 Student Art Festival in Timisoara, Romania
2000 Association of Polish Sculptors (ZAR) Gallery in Kraków, Poland
"The Rembrandt of The East"
- Der kleine Kunstbahnhof
"Zombies and Skulls"
- Rhein Zeitung
zgrzyt berlin
In between 2005 and 2007 I ran an art gallery called Zgrzyt, deliberately chosen as a free space which leaves gap for spontaneous artistic activities in a moment. It was a MEETING and EXHIBITION CENTER in Berlin, Germany.
The name means "grind" in Polish. "ZGRZYT" is a musical event, a noise full of disagreement, friction and conflict. Several distant sound are clumping together to lead to the point, that is no longer recognizable in their details, unpleasant and annoying. It is an evident of CHAOS.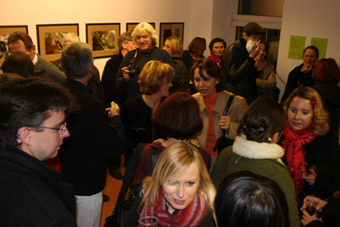 (Zgrzyt Gallery - Berlin)